29.10.2010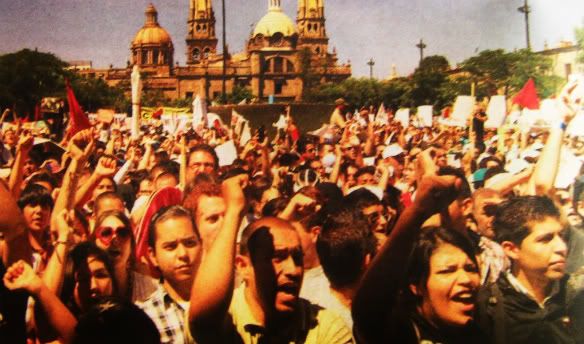 Historically, social rights have been created and advanced thanks to the actions of political movements on the part of large collectives.  The Independence movement and the Mexican Revolution represented, in certain form, justifiable struggles for liberty, equality, and well-being of all Mexicans.  From these massive social movements, primarily the Revolution, such rights were achieved as access to land, union organization, and education among others…  This march signified the movement of one of the largest academic communities in the country, demanding the right to a fair financing for the institution and, above all, the respect of another social right, today consecrated in the Constitution of the Republic:  university autonomy.
La Gaceta – 11 Oct, 2010, pg.6
Part 2:  The Melodramatic Politics Part
Political distemper always trumps philosophical delusion – in the public forum and minds of the masses, that is.  This is because politics is about capturing the imagination in order to cultivate popular support.. and philosophy captures no part of any society that turns away from the burden of thinking on its own.  It simply doesn't arouse the emotions, much less generate any great number of votes.  Currently here in Guadalajara, we're all witness to a conflict evidently of biblical proportion.. not that its epic tone makes it unique in any way.   The clash and all the juicy splatter that comes with it occurs in this case between the public University of Guadalajara (UdeG) and the state government, namely the governor himself, Emilio Gonzalez Marquez.  
The ordeal at hand is a question of funds.  UdeG is a federal and state funded institution of higher learning, which over the last 85 years has benefited an enormous number of Mexicans, many of whom would never have possessed the money necessary to attend any private university.   The students pay nothing, although entry is quite competitive (that's good).. unless one of your parents works there and/or is on the faculty.. then somehow you're able to cut to the front of the line.. hey – but just zip it, eh?  I'm not sure anyone's supposed to know that.   Since 2007, Emilio's first year as governor, the state budget has increased by nearly 50%.   During the same time, the state's  'UdeG portion' of the budget has increased by only around 25%.  UdeG points out that this difference in budget increases has amounted to a total net loss of 701,000,000 pesos of university funds that the state (Emilio Gonzalez, essentially) is unjustly 'holding back'.  
Over the last couple of months, there have been over 50 marches, demonstrations.. however you wish to call them.  Students and teachers from one department or another, or from this or that public high school (also which belong to UdeG), on any given day have taken to the streets, heading to Casa Jalisco downtown where the state government offices are located.   Their demand:  Emilio – you have no right to take away our right to an education!  Give us our money!!  Education is Mexico's only route to a better future!!! 
Really, now… who´s going to argue with that? 
But why such bellowing and fist pounding animosity toward Emilio Gonzalez?
Well, he is the state governor.. so, that's a good place to start.  But more importantly, he's a member of the National Action Party (PAN), which is Mexico's most conservative political party.  Conversely, and equally as important, UdeG's leadership and faculty have shifted greatly to the left over the last 20 years.  But Emilio's greatest political deficit is his personality.   No one would intelligently attempt to defend the PAN by drawing your attention to Emilio.   Would you ever defend the legendary status of a group like KISS with such a priceless gem as "I was made for lovin' you baby, you were made for lovin' me…"? (some of you actually would.. but please, let's not step into that twilight zone..)   While Emilio is nowhere nearly as creepy as that, he's exposed enough character flaws in the last four years to be branded an imbecile by even most of his would-be followers.  So it's quite easy, then, to set the stage with Emilio Gonzalez as the antihero who turns out to be the eternal fool as the tragedy unfolds, stubbornly and obtusely holding back funds that are so dire for the survival of public education.
Political scandal or political stunt, the fiasco as a whole seems to have achieved complete distraction from the fact that the real fools here are the supposed academics hitting the streets.  And why would I say this?  Because I'm in bed with Emilio scratching his hairy ass?  You ask any one of these students on the street precisely where the generous quantity of funds that UdeG really does receive actually go.  They haven't a clue nor could they care any less.  For if they did, they'd be marching instead to the homes of those who run the university, demanding that they come clean and allow an independent, external audit. 
A real anal exam of an audit is something UdeG leaders will go to any length to avoid (the last UdeG chancellor actually did try to have this done, but it was too far a reach.  He was involuntarily retired from his post by others who really do run things at UdeG.  He put up a legal fight to get his post back.. and subsequently wound up dead in his home.. a suicide.. go figure).   But of course it's not because there's anything to hide, claro que no.  It's simply a matter of safeguarding the university's constitutionally granted autonomy.  Yes it's true.  University autonomy is indeed protected by the Mexican Constitution, just as it should be.  Autonomy, however, when you consider what the word really means, is not a term you can seriously apply to students, teachers, and university leaders in the streets clamoring for more pesos because the recent increase in state funds wasn't enough evidently to ensure that learning happens. 
Moreover,  it doesn't take a fifth grade education to know that the money they're demanding won't result in one teacher pay raise more, nor even a cheap bar of soap in the UdeG latrines.   UdeG is not hurting for funds.  None of what UdeG lacks for the benefit of its students or teachers (which is a lot) is due to any shortage of state and federal money.  The political movement its leaders seek to advance, however, is hurting for power.  The students in the streets, all too clearly it seems, are oblivious.. in so much as they think that this is truly about the future of education in Jalisco.   But you want to talk about autonomy?  Ask them or the teachers what consequences they'll face if they don't cooperate and participate in the march.  
There's something to be learned here about the consequence of trying to ensure the right to a costless education for everyone.  And it's not the realization of the political ideal of equality, much less the danger we somehow like to think it represents for snooty rich people.   The consequence illustrated by these marches is derived from something deeper than politics.  It originates in our belief that a right to an education is an ideal that must be fought for, attained, and defended.. and furthermore in our unwillingness to question the institutions responsible for 'providing' it  -  especially, as this case so clearly shows, those institutions that don't generate their own funds. 
Now I realize that I must sound absolutely delirious to say something like the above.  But if I've at least maintained your attention in doing so, allow me then to explain exactly what I mean.
Part 3:  The Cheap Philosophy Part
The importance of an education is unquestionably clear to any of us with the knowledge and experience necessary to advance ourselves over a lifetime.  The emphasis that we give to the fact, however, possesses an authority over our imaginations and sensibilities that, all too often, we submit to far too blindly and irresponsibly.
What people mean when they say that everyone should have the right to an education is that everyone should have the benefit of being recognized by society that he or she is capable.  But how do we recognize such capability?  We allow the university to be the arbiter, to determine for us who's competent and who isn't.  Even though any university that's worth half a cent would reveal to any student the foolishness in such a blind faith.  But whatever.   The real point that people want to make is that no one should be denied the opportunity to bow before the exalted authority and bestower of knowledge, good (enough) grades in hand, and be officially anointed … "qualified".    Yes, I know.. that's laying it on a bit thick, hence, our tendency toward the far simpler outcry for "the right to an education".   It rolls off the tongue so much more easily.  Never mind that real knowledge and experience in most fields of study are quite attainable with complete independence from the university's blessing. 
And then from there many of us somehow make our way to the more controversial argument that education should be "free".. yes, another virtually angelic term, equally as pardoned from scrutiny as the word "education" itself.  The 'free' argument, barely able to support itself upon the thin "right to an education" logic that sustains it, easily gets caught up in emotional whirlwinds and reduced to toddler blocks.
So we rework the whole idea, coming up with something like this:  "It's imperative for the advancement of any society that it's members be educated.. or inversely, the less people we educate, the worse off our society will become".  And though the term 'education' here is still forced like a puzzle piece that doesn't belong, this argument is much more compelling to be sure. The idea resonates especially clear here in Mexico, or any country that has a long political and cultural tradition of the big people 'taking care' of the little people, and the belief that society can only advance for the better of all – with 'education'.  Of course this equalizing of the masses rarely if ever truly happens in the real world, ruled by human nature.. but is it not fascinating how an overwhelming number of us remain devoted to the idea?
Again, no one can overstate the importance of education.  What's misguided is that we refer to it as though it's an entitlement, and from there that everyone should have a right to it.  Philosophically, it doesn't wash.  There's no philosophical basis for the right to breathe, either.  Honestly now, with no system or law granting us the right to breathe… for free.. is it not curious that we're all somehow able to get away with it anyway?  .. even victims of asthma and lung cancer?  A bit of a stretch?  Yeah, maybe..  but even those locked away in a prison cell for years, who have the fewest rights among any of us, can educate themselves if they choose to.  No one 'needs' a 'right' to an 'education', and I think we all know it.
"Everyone should have the right to a golden ticket" is what we're really trying to say.  Nonetheless, we continue to force this word 'education' into that place.  Why we insist on the latter has everything to do with politics and virtually nothing to do with sound logic.  We like to think that a college degree is an indicator of education.  It's not.  It indicates that we probably passed exams in a classroom.  The political side of the coin does not require us to consider what exactly the point would be in everyone being entitled to and receiving a golden ticket.  But we can be sure that it would cease to be anything golden, if it ever was in the first place.
When we talk about the importance of education, it should always remain fundamentally clear that it's not the university's role to 'educate' anyone.  That's our job, as individual free citizens, whether we attend a university or not.  The purpose of a university or any school should be nothing other than to be shamelessly exploited by people who want to learn, rather than blindly exalted by those who worry endlessly about exams and put all their faith in the golden ticket.
While it's perfectly possible that a state and federally funded institution be a standard setter for efficiency and positive results, it's always far from likely.  Our nature is that we produce and improve these qualities through an instinct of self preservation in the face of competition.  UdeG is not in this position, nor is it by any means an exception to the norm among government funded institutions.  It hasn't to worry about going broke.. ever.  There's no motive therefore among the leadership to provide anywhere near the best service to the students.  After all, where would the students get off complaining and demanding anyway?  UdeG is providing their 'education'… for 'free'.   Should the students not instead be kissing the university chancellor's feet for divinely defending their right to an education?
Oh, but how they do.  You really think it was the students who thought up the idea of filling the streets and howling at Emilio for more pesos to fund their 'free' and 'autonomous' education?  Of course we're talking about Emilio, who's going to argue, right?  And then what?  Do you really think that the same students will organize, demanding and pressuring to know just what will be done with this money if UdeG gets it?
As long as there's a golden ticket at stake, don't count on it.   
Surely their intention here was not the sad irony that no one can help but notice…