03.08.2010

A few days ago I received an email from a fellow somewhat mexicanized gringo, who goes by the name "Doc".  Yep, that's him there to the left.  We've never met face to face, having just thrown comments back and forth at each other's blogs, but he's the kind of cabrón you'd love to accompany while out looking to raise hell in some darkened alley or sleazy bar (the ones where the urinals are out in the open and with the seemingly easygoing ugly bastards and their just plain frightful rent-a-women)…  Is that good or bad?  Let's just say I like the old man.  Go spend a half hour or so at his site and I think you will too… and you'll most likely come away feeling like you've already known him for years..  Anyway, here's what he presented me with:
I'm asking for your help, bud.
I'm trying to help out a young lady that is in dire need of a helping hand. If you'll check out my latest blogpost, you'll see what it's all about. I'm not asking you to contribute (obviously, if you want to, that would be great, but that's not what this email is about), but rather to help me get the word out. If you'd be willing to make a blogpost about her situation, and throw it up on some bookmarking sites, I think it could really help. In fact, I'd even do the bookmark uploads for you.
I'll owe ya a big one, if you could help out on this…
Doc
Well… what do you make of that?  What should one do?  Should I have responded saying that this site deals only in matters concerning daily life in Mexico, and that I'm not interested in converting it into a lonely bulletin board for cheap scams?  Perhaps.  Were it most people other than Doc, I would have.  But I went and read his two (now three) posts, and decided that if he's so damned tenacious about this as he is, and this girl he's trying to help is as determined as she is, what harm then is there in spreading the word to the 35 some odd lost souls who stumble their way onto chingodegringolingo every month or so….  
So what's this all about, then? 
Consider this likely scenario (we're gettin' there, just bear with me):                                                    
You walk into an exceptionally quiet room full of people you know, maybe family.. coworkers possibly.. and after a rather apprehensive glance around this mysterious and melancholic dark cloud of humanity, an uneasy feeling begins to swirl about the depths of your mushy bowels…    You've taken your first step into the 'no smiles' zone, it seems.  The energy in the air, is.. poignant, to say the least.   It comes at you ominously, like a raging fist in slow motion, mashing its index finger right into that wrinkly skin between the brows and warning – "Not.. a word…!"  …But it's just.. bizarre, man… no, man… it's sheer trepidation you're feeling now, and it's boiling over and it's about to just burst.   You simply haven't a clue.. and the ensuing desperation yearns frantically for release.  Not a word, eh?  Well, words come forth.   They cut through the silence in fact like some.. dull steak knife.. back and forth, through an old cardboard box…  
"Have any of you seen my blasted car keys??  I am SO screwed if they don't turn up!!!"
While some burning glares dart your way, others squint just a bit more tightly as they continue to stare listlessly at patterns on the carpet or out the window.. but amazingly, the overly solemn quietness prevails.  Completely beside yourself now, a chilling notion sets in, and you wonder in near panic –   "Mercy me.. has everyone else lost their keys too!?"
The woman closest to you moves in a bit closer… hand beside her mouth, palm facing out, as if she has a secret to tell you.  So you lean in and out of her mouth comes the faint whisper:  "It's cancer… she has cancer..!"   … so quietly you may have to ask yourself if she even spoke at all… but just through her eyes comes gushing the unspeakable horror… And there you are, jaw dropped.. though still with no keys to drop on the floor, frozen..  not an enchanted moment.. absolutely not…
Okay, it may be a bit exaggerated and dramatic, but the point is this:  What is it about cancer that frightens us so?  What moves so many of us to feel that if we even say the word out loud, we'll unleash some sort of inescapable cancer karma that will sneak out from under the bed at night and do revolting and dreadful things… like yank out every one of our teeth and rearrange them.. or pull our legs from their sockets… or inform us of our pending deaths within the next three, seven or  forty-six weeks?  At the end of the day, just as at the beginning.. and the middle, you either have cancer or you don't.  Most of us don't.  But what about those who do?    If we should stop to consider them for a moment, would it be a totally unforgivable sin not to be able to get beyond "Wow.. that sucks.." before going back about our business?  Ugly paragraph, is this not? 
If you want to discover anything good relating to cancer.. well folks, whispering and sugary coated empathy just isn't going to cut it.  You must examine those who  possess not only the misfortune of a daunting uphill battle, but particularly those with the will to fight it and win it.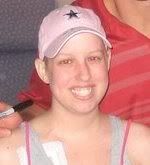 Enter Rachel Hunnicutt-Knight, from Keller, TX.  Here's another individual you'll feel like you've known for quite some time should you visit her blog.  It's worth your time to do so.  This woman can tell you all about the ugliness of cancer.. but more importantly she can tell you about life.  Fighting cancer for the third time before the age of 25, she's decided to take anyone interested on a day to day trip through Chemo-land, and a relentless quest for a perfect bone marrow replacement.  This must be an incredibly expensive operation.  Though she has insurance, just the co-pay comes out to $80,000.  That's a wee bit more than a tall order, and it may prove to be the toughest part of the whole ordeal.  Then again, it could turn out to be one of her finest successes, years from now.. looking back over a long life.
Doc, being a friend of a friend of her family, was moved.  And so he's heaved all sorts of support to Rob Jones (the friend of Rachel's family.. and very likely the next U.S. President), getting the word out on a website that Rob recently put up, Got-Marrow.org, with a paypal account to accept donations.  It's okay if you believe it's a scam.. I only suggest you take look at his and Rachel's sites before accusing me of having been duped.    
Whatever funds she lacks, she makes up for a million times over with a modest but unwavering husband and family, and a few unhesitating friends  -  people who are empowered to help literally through her personal strength, courage, and attitude,  helping make her stronger with every effort they make.   No whispering here.  No terror gushing out through soppy eyelashes.   No bleeding hearts.  Just a job to do.  And it's a job she aims to finish. 
Even if you are one of these weaklings afraid to mention the word, take a few moments to read her blog.  Even if you find yourself wallowing in apathy, take a few moments to read her blog.   She teaches a lesson about life that no one should ever forget:   Whenever life gets ugly, which it inevitably does for all of us at one time or another, you must make an assessment of whatever you do have that's good, and put it to hard work.  For Rachel Hunnicutt-Knight, it's not just a lesson… what's clear for all of us who have taken the time to get to know her a bit, is that it's something she's damn good at!
We're out here Rachel… and you're in our prayers.