18.06.2010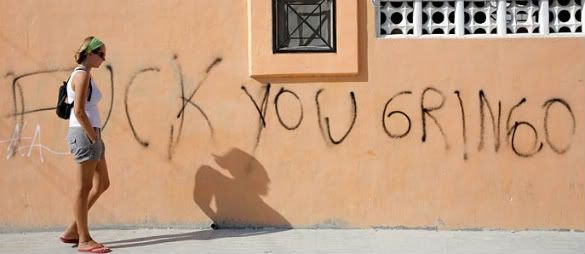 Therapeutic for nearly all small minded intellectuals is "cutting the gringo down to size".  Be it here in Mexico or elsewhere.. even in the U.S., the contrived disgust over how little the gringos know about their neighbors and the rest of the world is all too common an encounter.  If you're a sensitive gringo living abroad, this can be a difficult burden to bear.. and may leave you running for cover within the safe haven of the self critical gringo.  Sadly, should you decide upon this roly-poly type of maneuver, you won't likely see that you've successfully brought the image of the stupid gringo full circle.  Self criticism in any situation, other than in front of a mirror, is not only uninspiring…  it's simply 'not chingón'. 
One of the most common fireballs that many Mexicans, among other latinos, like to lob at the gringo is the latter's claim to the term 'American'.  "The arrogance!!"  "We're all Americans!"  "Why can't the gringos wrap their heads around the fact that their country is not the center of the universe?"  But don't let all the huffing and puffing get to you..  If they can so convincingly pretend that they care about it, you can at least fake a spiritless yawn while responding  "No mames, cabrón, are all of your passions in life as shortsighted as that one?"
That might be enough in itself, but some will persist.  And what can you do?  If you have to, spell it out for them. Explain how silly such a concern appears to be, next to bigger and far more important concerns, like the problem with those dunces who believe the new millennium began in 2000 instead of 2001 and the emotional stress they cause for the rest of us who know the real truth.   
The following is a small sample of other little sucker punches you could land on the soft groin area of whoever's whiny intellect you're up against.  It´s a little quiz of 10 or 12 some odd questions loosely calculated to work out in your favor.  But by all means, feel free to tear these marvelously witty points apart or trounce them with whatever smart-ass commentary occurs to you.  When you consider the caliber of the sort of argument we're working with here, it´s quite clear that the prize is hardly worth anyone's most gallant effort.
How to tell whether or not you believe the term "American" really applies to you.
If you were to go to India and speak to someone who said she had family in America, would you truly respond "Oh really?  Where exactly.. in Chile?..  Guatemala?? … Peru perhaps?"
If a forklift driver in Moscow with nothing more than a high school education reads that "only in America can a dockworker with nothing more than a high school education earn 50 grand a year and if he works hard enough start and run his own business…" , do you seriously believe he's just as likely to pack his bags for Venezuela or Mexico as he is for the U.S.?
If you were to ask a gringo why he's chosen to live in Mexico for however long, and he replied that he's here to pursue the Mexican dream, would you not get upset? ..assuming that he's poking fun at Mexicans? .. so pitifully sad and despondent as such an assumption would be (it's happened to me on more than one occasion)…  What if he said he's here to pursue the American dream?  Would you not consider him simply deranged??
When you hear the term "American Dream".. or "America is the land of opportunity" do you just shake your head and say – "Those silly, sheltered and naive gringos.."?
When you think of the film, "An American Werewolf in London", do you envision a mad crazed Mexican scaling the walls of Big Ben?
When chatting with friends and acquaintances and someone says "Americans are so stupid".. do you get angry and defensive?… or do you join right in because obviously they're not talking about you?
When James Brown sings "Living in America", do you suppose he could likely be referring to the Andes.. or maybe Central America?  Does it bother you that he doesn't mention Zacatecas or Jalisco?
When someone tells you they saw another someone burning the American flag… do you become very concerned and respond "Which one… the one with the leaf? ..but they're so peaceful.."?
If your company placed you in charge of entertaining an important business client, and for some reason she expresses a craving for American food.. are you really going to take her out for tacos?  or menudo?  or the local Argentinean joint?
Americans settle back in their easy chairs each fall to watch Monday Night Football.  Note that no one there refers to it as Monday Night American Football.  Who then uses the term "American football"?  It sure as hell isn't the gringos.  Just for the misguided pleasure of watching it dribble out of your mouth, explain to me why you call it "American" football.
If a country or several countries openly declare war on America and all Americans, do you think that Mexico, or any country in Central or South America is therefore in the crosshairs and should gear up to meet the threat?
Mexico is a sovereign state.  So is Ecuador.. and Brazil… and son on… When you read that the population of the United States of America is roughly 300 million.. do you think to yourself  "Gosh. and 100 million of them are in Mexico alone!  Go Mexico!!"?
Of course, we all recoil at the blind arrogance of gringos who think that America is the United States.. when clearly the U.S. is but one country among many throughout America.   Do you forgive the gringos then, when they don't realize that there are indeed 32 states in Mexico, united within a federal government?  After all, among all the American countries, there's just one United States… or do we just have no rightful claim to that one either?
Now the point here… is obviously not to show off any superior sharpness or brilliance you may possess over the average fearless, pestering attacker of gringos you might encounter.  Rather, it's to show just how dull and dippity dumb the issue is in the first place.   It also serves as a fine alternative to the pathetic cowering that too often happens when confronted with accusations of being one the most arrogant fools on the planet, just 'cause you're American.   Don't take it too seriously.  Just show that you've got a pair.  Here in Mexico, we have nothing close to a perfect country, but most Mexicans I know will leap to the defense of their nationality at virtually any affront placed in their way.  I've learned in my time here that there's far more respect to go around for any gringo that knows to do the same.