13.06.2010
I like dirt… I like the gritty feeling you get when the wind picks up and blows it all around you and in your face… it makes me feel alive.  I'm not averse to cleanliness.  It's just that "the finer things in life", as most would consider them, simply don't allure me.  When I see a man, helplessly constrained within his delicate dress shirt and choking tie, in his shiny Mercedes leaving his lifeless vacuum of a cubicle at the office, only then to have scrape his little bar of gold on wheels over the 20 some odd speed bumps and 59 potholes on his way to some overcrowded gym.. envy is just not a word that comes to mind.   At the end of the day, will it really matter that he eats at far fancier restaurants and knows how to properly hold his knife and fork?   I prefer food that I can eat with my hands.  Greasy is fine.  The junkier and unhealthier the better… and sometimes I don't even wash beforehand, much less after.   I'm not a complete pig.. I do use napkins, or a paper towel… and other tissuey, papers…  maybe my cultural background is a bit lacking.. Yep.  So what?
So what, if I genuinely look forward to a trip to Wal-Mart (only to find that they have no frisbees, and that in fact these wondrous discs of endless afternoon joy are not even an inventory item)?   But allow me to go a step further down this worm trail of cultural destitution.. for if I can find underwear even cheaper at a flea market, not to mention in a more desirable condition than what I already possess.. I should think it even better.  Many indeed, are the fond memories I cherish of the flea market.. that unsung hero of stiff necked frugality and thrifty hearts…  sparkling gem of impoverished marketing ingenuity…  Wonderful as I remember it , however, it beckons not even the faintest longing for home.  Here, they've been working the same concept, but even better, since all the way back to the Aztec Empire.
Diego Rivera fresco – "La Gran Tenochtitlan", depicting accounts by Hernán Cortés and Bernal Diaz del Castillo upon first entering the 'capital' of the Aztec Empire, what is today Mexico City.   The Aztecs called this style of market "tianquiztli", which I get into here below… after wandering aimlessly for the two long paragraphs above……
The Mexico I know just wouldn't be what it is without its own version of bargain consumer carnivalism, known as the tianguis (no, not "TIEangwes"… try this: "teeANgueez").   Like a good flea market in the states, a trip through a tianguis always promises an anthropological adventure of sorts.   What makes the tianguis distinct from the flea market is that it's not cooped up in a big 'for rent' building across the parking lot from the local bowling alley.  They're almost always outside, under tarps to block the sun and the rain (and insulate the suffocating heat inside).  They always occur on one designated day of the week, some two days, and quite often set up in the middle of the street, spanning a distance from one to in some cases a staggering 20 blocks or more.   Los tianguis are simply a part of everyday life here in Mexico… though it doesn't mean, necessarily, that you haven't "experienced Mexico" if you've never been to one.  After all, it's quite possible to live in the U.S. for many years having never gone for barbeque or to Taco Bell… but can you really call that "living"?
As early as 5:00 am on the designated day, the tianguistas begin arriving to set up shop…  each little booth is a contraption of bars and rods, with which vendors can establish their perimeter, tie down the overhead tarp, hang merchandise, and set up makeshift tables also to display whatever item that maybe at least someone out there will want.  By late afternoon, they're torn back down again, loaded up, and ready to haul wherever… usually to another tianguis in a different location the next day.  When they're gone, the area looks like a disaster zone… but city workers come in and generally make a fairly prompt cleanup.  Of course, these fine cleaner uppers get paid at most a modest sliver (perhaps as much as 8 pesos per hour) of what the city collects from each tianguista (about 8 – 10 pesos per square meter) to set up shop on city property.
On any given day there are several of these markets throughout the city.  While all similar in concept, there's a wide variety regarding what each specializes in.  Some, for example, are strictly clothes.  Others are mainly produce and miscellaneous foods.  There's one I know of that deals more in perfumes, makeup and accessories… Some are dedicated to used cars.. others to new and used tools and equipment… some have all of the above.
The tianguis "Cultural", somewhat contrary to its name, deals with everything counter culture.  People that just don't fit in anywhere abound here.  Metalheads, emos, hippies, punks…  one booth sells death metal shirts, the next has hindu.. I don't know.. stuff, followed by the communist table, with all its pathetic literature about a perfect world – where all of us are good workers.. but somehow don't have to pay for anything… but somehow work anyway… whatever.. surely they're far more talented with that sort of math than I…  Neighboring close by are the Huicholes with their distinctly colorful arts and crafts.  Then there's the vampire station, baking there.. in the sun.. next to the tattoo artists, who can also do dreadlocks, and so on and so on…  
For over two years I had been half-ass searching for a simple black T-shirt with the "Opeth" logo on it.  No problem finding it here.  70 pesos.  Now it's practically the only shirt I ever wear… sad, really…  unless you're me.  I'm as happy as a communist with a Stalin sized beer belly.   Now I want to find one with the "Star Wars" logo on it, but in the naco Mexican version that says "Estar Guars".   No one can realize all of their dreams at once, however.  Poverty = one shirt at a time… however long that time may be.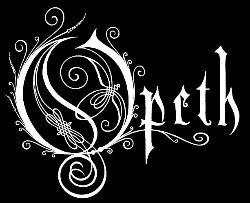 There are books galore on virtually any subject, not to mention a wide, wide selection of pirated music and movies.  Movie and music piracy seems to be considered a birthright.  It's success is a testament to the fact that there is indeed a huge market of people willing to forgo their insistence on quality if indeed the price is right.. 10 pesos is about right.  How many times are you really going to watch the bloody thing anyway?   However, if the tianguis had to be shut down for a day because some movie was going to be filmed at the same location, would the pirate vendors be upset about it?  (if you don't know, just answer 'yes' and move on..)  Lots of wild stuff.. every Saturday..  
The tianguis in Tonalá occurs every Thursday and Sunday.  Specializing in pottery, furniture, and everything for home decor from little nic-nacs to large artistic fixtures, it sprouts up all along a business district that on any other day looks like a ghost town.  More tourist-friendly than the rest, it's far lovelier than Wal-Mart, though far less air conditioned.  I bought something there once… but I don't remember what it was.  It's great for those businesses established there, because of the consumer traffic that the tianguis brings.   But you need to learn how to politely shove people around.  Otherwise you'll stay planted in one spot all day.  It's okay to do it.. just little baby shoves.
The Baratillo, where on Sundays you can find absolutely everything under the sun, literally…  is one of the largest street tianguis around.  I´m not sure exactly how large.. but if I were told that it spanned to the moon and back, I wouldn't question it.  You'll stumble upon anything from pets to little piles of barbie shoes.. from motorcycles to stray drill bits.. guitars, machetes, antique cameras.. whatever.. from blue jeans to blue berries to deep fried fish heads…  It seems the only items on earth not found there are simply those that    – I – would be looking for:  a simple lamp post… or one of those big plastic clips for putting away your potato chips once they've been opened.  And what about that stupid frisbee I've been searching all over frickin town for?   Maybe it only exists in my imagination from some bizarre dream or something I had as a kid.. I don't know.  Have you ever actually purchased one?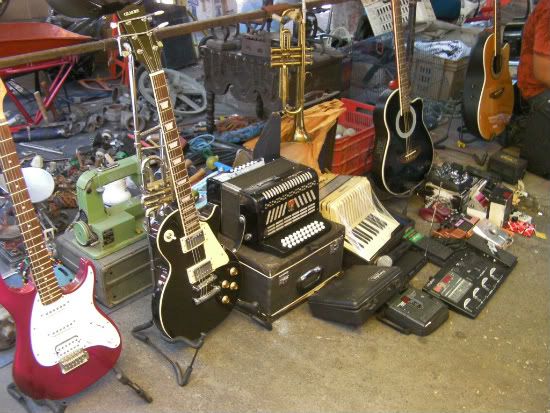 There is actually a darker side to the frolic and festive bliss that the tianguis represents for so many of us.. besides the fact that you'll get no special discount should you happen to come across your stolen laptop and try to buy it back.  This Baratillo, for instance, being the street tianguis it is, is a gargantuan pavement devouring monster, slicing right through one of the oldest and most highly populated residential districts in the city. 
Most of the residents that live along this street certainly don't consider it a blessing in any way.  Most bothersome for them is that they have to park their cars sometimes 9 or 10 blocks away the night before, if they plan on using it the next day.  A friend of mine who has to do this found her car the next morning with the window bashed out.  Of course she had not left anything valuable in it..  but the little pukes had to get in to pop the hood so they could make off with the battery, which might bring as much as 200 meagerly pesos on the black market.  Sure, it could just as easily happen parked right at her doorstep, but at least that's within a baseball bat's reach.  Anyone who parks on the street in front of their own home will receive an angry beating on their door at 5:30 am instructing them to get it the hell out of the way.  And I dare you to ask them what they think of the cleanup afterwards.  We also shouldn't kid ourselves about the city, which makes good money off it, perhaps compensating them for the inconvenience.  After all, the street is city property.  The residents only own the houses alongside it.  And the bruising their property values take as a result is entirely their problem.
None of this really gives you a good excuse not to go.. if anything just to get out of the house and do something.  Find people that sell things that interest you, talk to them.. make connections.  Rub your sweaty belly with other people's sweaty bellies trying to go the opposite direction in very tight pathways.  Get some tejuino to wash down those fish heads and tripa tacos.  I don't recall if you'll find any of that Frida Kahlo crap that outsiders seem so fascinated with..  you might just have to settle for a thong that says "kiss me" all over it.  Whatever you might discover, you'll find the tianguis to be a great place to get some dirt in your face and feel alive, and briefly get into the grit of everyday city culture.  Enjoy.